Posted:
April 28th, 2017 |
Author:
Tommy Lawlor
|
Filed under:
Philadelphia Eagles
|
229 Comments »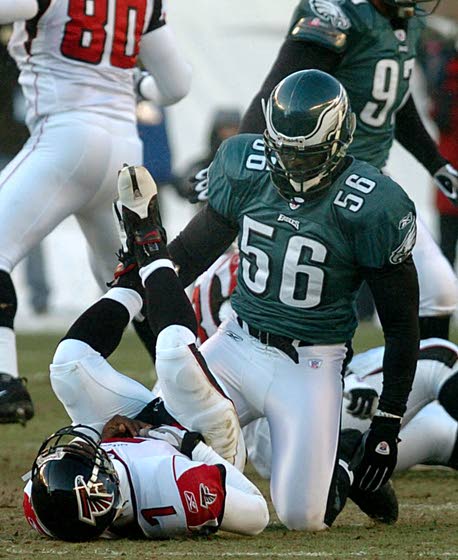 Derek Barnett was a solid pick. Not sexy. Not flashy. Solid. This felt like a Joe Douglas pick.
Eagles fans have always looked down at Howie Roseman for not being a former player. "He's an accountant or lawyer, not a scout." Howie then went out and hired someone that is absolutely a football guy in Douglas. Howie gives him power and control. Douglas then picks a player who isn't a great athlete. Barnett is a football player more than a runner/jumper/etc. Watch the tape. That's what you'll see. So the football guy picks a football player. And some fans are like "Yeah, I'm not feeling it. He's not athletic enough."
Ugh.
*****
I'll write a longer, more detailed scouting report on Barnett when I've got time. Here are some quick points.
There is a lot of talk about how Barnett compares to DE picks of the past. Barnett is nothing like Brandon Graham. Graham was a terrific athlete with an insane motor. He played like the Tasmanian Devil from the old cartoons. Constant motion and havoc. Barnett is an okay athlete, but nothing special. The guy he reminds me of is Derrick Burgess, and that's a huge compliment in my book. Burgess was my favorite player in the 2001 draft. I was beyond ecstatic when the Eagles took him. Burgess was a football player more than an athlete. He had horrible injury luck in Philly, but showed glimpses of how good he could be. When he got to Oakland and stayed healthy, Burgess had 27 sacks in his first 2 years.
There are 3 key words to remember when it comes to Barnett: bend, flatten, finish. Most pass rushers can fly off the edge. Most get blocked because they can't bend well enough to get around/under the OT. Some do, but then keep going up the field and past the QB because they can't flatten their path and go toward the QB. And not all pass rushers who can bend and flatten can actually get the QB on the ground. Getting to him is hard, but you want to finish. You want sacks. Barnett can do all 3 things and that is why he racked up 32 sacks in his 3 seasons at Tennessee.
Some people love to point out that the Eagles have missed on a few DE picks in the past. That is true. But circumstances are different this time around. Joe Douglas is a top notch scout. He knows what he is looking for. Jim Schwartz is a top notch defensive coordinator. He has a strong track record of developing good pass rushers. You had a smart guy pick Barnett and now a smart guy is going to coach him. That doesn't guarantee success, but it should give you confidence that this pick can work.
Scheme fit is a huge part of draft success. Watch Barnett play at UT and he's doing many of the same things that Schwartz will ask him to do. I watched guys like Takk McKinley and T.J. Watt and wondered if they would be good scheme fits. Both were terrific college pass rushers, but they did some different things. Barnett is a player who you should be able to plug-in right away. That doesn't mean he'll start as a rookie, but it won't shock me if that happens. The coaches are going to put the best players out there. It is up to Barnett, Vinny Curry and Chris Long to show who deserves to start opposite of Brandon Graham.
In terms of intangibles, I think the Eagles hit a home run. We saw with Danny Watkins that intangibles can be a big deal. Watkins had NFL ability, but didn't love the game of football. Barnett is a tough, hard-working guy who does love the game and will do whatever it takes to succeed. That mindset is huge for pass rushers. And watch this. Seems like he's had his head on straight for a long time.
Derek Barnett's work ethic comes from his mom. She worked seven days a week while he was growing up. Story: https://t.co/oVhLbZQlRl pic.twitter.com/5iqdQG4JHE

— WBIR Sports (@WBIRSports) April 27, 2017
I want this guy to succeed even more after watching that.
*****
So we'll have the 2nd and 3rd rounds tonight. The Eagles are in a good spot in the 2nd round, with the 11th pick. I'm guessing the Eagles go for a CB, RB or WR. There are strong choices at each position.
RB
Dalvin Cook
Joe Mixon
Alvin Kamara
CB
Kevin King
Quincy Wilson
Chidobe Awuzie
Fabian Moreau
Cordrea Tankersley
* Sidney Jones
WR
Chris Godwin
Taywan Taylor
Curtis Samuel
JuJu Smith-Schuster
Zay Jones
Luckily there are a couple of QBs who could go ahead of the Eagles. There are 3 or 4 OL who could be taken ahead of them. There are a few pass rushers who could come off the board. The Eagles are in a good situation. If they love a CB or RB, stay put and take him.
You can also argue they should move down.
I'm hoping the Eagles can somehow add a pick or two in the middle of the draft. So many good players…
*****
I'll put out my longer post on the draft this afternoon.
_
---