Posted:
June 19th, 2017 |
Author:
Tommy Lawlor
|
Filed under:
Philadelphia Eagles
|
96 Comments »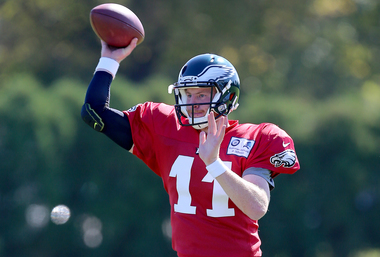 We know Carson Wentz is the Eagles franchise QB. What we don't know is exactly what that means. Tom Brady is a franchise QB with handful of Super Bowl rings. Matt Stafford is a franchise QB who has yet to win a playoff game and only has one Pro Bowl to his credit. Wentz could be embarking on a Hall of Fame career or he could be the next Ryan Tannehill.
2017 won't be a defining season for Wentz. There is no exact timetable for QBs. Some players are special early on and others take time. Packers beat writer Bob McGinn had some interesting comments about Aaron Rodgers recently.
"He was a very poor player here for his first two summers and regular-season practices. Fortunately for him, and he knows that down deep, he didn't have to play early. His delivery was a mess, bad body language, he didn't know how to deal with teammates. He learned so much from Brett Favre on how to in some ways be one of the guys and relate, and he became much more of a leader. He was really poor and how many great players have ever had a start like that? Not that many. A lot of scouts look at that exhibition tape those first two years and he was a little bit better the third year, but not to any degree, and then he just really developed. He lost a lot of close games in '08, but by '09 he was playing great and by 2010 he was maybe the best in the business. And then there have been a lot of playoff disappointments and poor performances. It's a quarterback league and all the rules are designed for that quarterback to dominate, and he hasn't done it in the most important times since 2010.
Think about this for a second. After four years in the NFL, Rodgers had thrown a total of 595 passes. Wentz threw 607 as a rookie. Rodgers developed into a great player. Some of the analysts who pick apart Wentz's game seem to lose sight of this. Wentz does have issues. Wentz does have flaws. He needs to be given time to work on them. If the Wentz of 2019 is still having questions about his accuracy or mechanics, then you have a serious issue.
For now, Wentz is a young QB, trying to figure things out while also trying to win games for his team.
Doug Farrar of Bleacher Report wrote a very good piece on Wentz. Farrar was fair in his assessment, offering both praise and criticism. Wentz is not a great player. He might turn out to be disappointing. I don't anticipate that, but we have to acknowledge that it is possible.
Farrar talked to old friend Mike Tanier to get Tanier's thoughts on what he saw at the Eagles OTAs and minicamp. Crazy idea to actually ask someone who was there what he saw, right? That's why Farrar is such a good analyst/writer. He doesn't get caught up in theories. Instead, he watches game tape or finds someone who he trusts who saw the player in action.
I asked Mike Tanier, my B/R NFL colleague, for an assessment of Wentz's improvements, if any, through the Eagles' 2017 OTAs and minicamp. Mike has seen Wentz develop since his first minicamp.
"Everything about his quarterbacking is much better now than it was this time last year, when he was still officially a third-stringer," Mike told me. "His release is more compact, and he holds the ball higher. He has had some drills under duress, so this isn't just a 'throwing in shorts against air' observation.
 "In terms of calling plays, audibles, cadence and the like, it's night and day. He now handles himself like an established starting QB up until the moment he cocks to throw. As to footwork, it's hard to see that in live drills from field level. We still see some off-target stuff when he resets. I doubt he is ever going to be super-smooth when it comes to sliding around the pocket.
"Overall, Wentz looks much more solid on a variety of levels now than he looked in OTAs or training camp last year, when he appeared to be simultaneously mastering a rebuilt throwing style and figuring out an NFL playbook. He also looked better in minicamp than in Stage 3 OTAs, which should be expected.
"A few passes from this week really struck me: Wentz switching to a three-quarter arm delivery to deliver a pass into a tight window, and Wentz throwing low on a sideline route intentionally so only his receiver had an opportunity to catch it. There are still some clunkers, but these are the kinds of high-difficulty throws Wentz has to make to take a significant leap forward."
Wentz is trending in the right direction. We don't know what his peak is or how long it will take him to get there. Farrar compares Wentz to Ben Roethlisberger, a player I have also used as a point of comparison. Go read the piece to find out Farrar's thoughts on when we can expect Wentz to hit his peak.
One thing Farrar didn't mention and I don't see many people bring up is the fact that Wentz had no foundational piece on offense last year. There was no dominant RB to feed the ball to. There was no great TE to act as a security blanket over the middle. There was nothing close to a #1 WR to throw jump balls to. There was no deep threat to make game-changing plays. The O-line was good when healthy, but injuries and Lane Johnson's suspension meant protection was an issue for more than half the season.
That will change this year. LeGarrette Blount, Alshon Jeffery, Torrey Smith and a deep, talented OL should offer a lot of help for Wentz. That allows Darren Sproles, Jordan Matthews and Zach Ertz to be the complementary players that they are.
All that help won't help Wentz if he can't help himself. Effort isn't enough at QB, but it does help. And it sounds like Wentz is listening to his coaches and doing everything that is asked of him. The coaches are pushing Wentz to get better in a variety of ways. From Jeff McLane.
"You cannot waste plays. Every rep is just so important that you have to just [have] so much focus on every play," DeFilippo said. "And I've really challenged Carson this offseason to what we say, 'Uncover where all the bones are [buried] in every play.' "
During his parting meeting with Wentz in January, DeFilippo set offseason goals for the quarterback. Some of them had to do with his throwing mechanics and others had to do with situational decision making.
And
That is why the Eagles continually fine-tune Wentz's mechanics. Much has been made of Wentz's 10-day session with quarterback guru Adam Dedeaux in February, but DeFilippo has been working on tightening up his motion from Day 1.
He has had Wentz hold the ball a little higher. He has had him take the ball back as he prepares to throw rather than dropping it. And he has widened the base of his footwork. There's always room to quicken the release and become more accurate.
"I saw a quarterback that had really taken some things to heart that he and I had talked about," DeFilippo said.
Unlike some other young QBs in the past who were more concerned about becoming celebrities, dating playmates or partying, Wentz seems genuinely focused on football. As Mike Mayock would say, Wentz is a gym rat. He's going to be watching tape, studying his playbook, lifting weights or practicing. He's going to do what it takes to become a good QB.
Matt Mullin wrote a good piece on Wentz and the idea of a Sophomore Slump.
"Sophomore slump" is a phrase people like to throw around without ever taking the time to see if it's actually a real thing. It's simply a way to label something that doesn't otherwise make sense or – and this is the one that really bugs me – to build a false narrative about a certain player.
The majority of times a player is hit with that moniker in his second season, it often fails to account for any number of environmental factors, those out of the QB's control, that could be affecting his play. Other times, a player has such an impressive rookie season, that an average year suddenly looks like a slump. Careers wax and wane, sometimes that happens sooner rather than later.
But when was the last time you saw a quarterback (or any player at any position in any sport) follow a perfect career arc, where their stats incrementally improve year-over-year until they peak, then slowly decline each year thereafter, until retirement?
It doesn't happen like that.
Furthermore, when talking about guys like Wentz – for the sake of this story, that means quarterbacks who were drafted in the first round and started at least 12 games in each of their first two seasons – there's rarely a drop-off of any kind in Year 2.
Go read the whole piece to get some good stats and more details.
It will be great when Training Camp and the preseason get here so we can finally start seeing Wentz in action and find out just where his game is.
*****
I referred to this at Part 1 because we'll be re-visiting this subject quite a lot in the coming week, months and even years.
_
---