Posted:
December 9th, 2017 |
Author:
Tommy Lawlor
|
Filed under:
Philadelphia Eagles
|
166 Comments »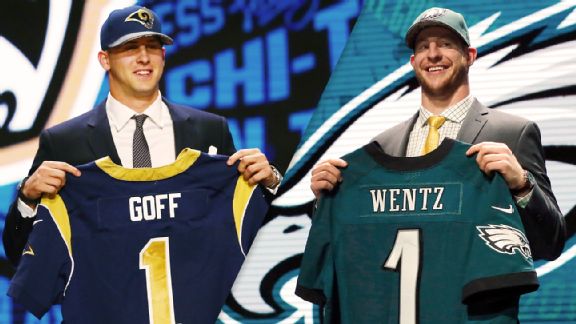 Goff vs Wentz.
1 vs 2.
After their rookie seasons, it looked like the Eagles had clearly gotten the better player. Now you can see that this is one of the rare cases where both teams landed outstanding QBs. This isn't going to be Manning vs Leaf, Pt. 2.
It will be interesting to see if this develops into a rivalry. The Eagles and Rams haven't faced each other a lot recently. They played once in the previous five seasons. If both teams win their division, they could start playing on a regular basis.
Goff and Wentz will be compared to each other no matter what, but facing each other is what makes a rivalry special. Manning vs Brady was great because they seemed to play every year, including multiple playoff games. Donovan McNabb and Daunte Culpepper were taken nine picks apart in 1999, but only played against each other three times. That wasn't much of a rivalry.
With Goff playing at Cal and Wentz at North Dakota State, there is no college history between the two. They began competing in the pre-draft process, where they actually worked out together. Tim McManus wrote an outstanding piece on their friendly competition and the process that led to them being picked first and second last year. The story in there about Hue Jackson and throwing wet footballs is crazy.
You can argue about who is better, but it really feels like things worked out for the best for everyone involved. Goff is a Cali guy and I think is a natural fit for the Rams. He is ideal for Sean McVay's offense. Wentz could thrive in that scheme as well, but I'm not sure how happy he would be living in SoCal. Wentz fits in well in Philly and seems like Doug Pederson's ideal QB.
It will be a lot of fun to see how the two do in their first meeting on Sunday. Both are having great seasons and they play on good teams.
If there is one thing we have learned to this point, don't rush to judgment. Some thought the Pac-12 star was definitely better than the I-AA kid coming out. Just about everyone thought Wentz was clearly better after last year. We need to wait four or five years to get a feel for who really has the upper hand.
Someone will come out on top on Sunday and have the upper hand for this season.
*****
Both teams have outstanding defensive lines. Which team will get more pressure? Which QB will handle pressure better?
The hardest thing to do as a Quarterback is execute when pressured by the Defense.

Here are the best-rated this season- Brady continues his dominance!#GoPats #FlyEaglesFly #Skol #HTTR #TitanUp #InBrotherhood #GoBills #FinsUp #Bengals50 #Seahawks pic.twitter.com/Or8mYY5Ob3

— NFL Matchup on ESPN (@NFLMatchup) December 6, 2017
Based on that list, Goff becomes much more of an average QB when pressured. Wentz is still able to make plays.
Both DLs will have some success. You aren't going to shut down Aaron Donald, Robert Quinn, Fletcher Cox and Brandon Graham all game long. If one of those DLs can get regular pressure, that will make a big difference.
And if one of the QBs is able to elude pressure and/or make a couple of key plays, that will make a huge difference. Wentz should have the advantage in that area.
*****
One area that could be key is the slot. Nelson Agholor is coming off the best game of his career (7-141-1). The Rams have been vulnerable to slot receivers.
On the flip side, the Rams top receiver is Cooper Kupp, who works primarily from the slot. He will go up against Patrick Robinson, who has been very good in coverage this season.
The middle of the field will be important for both passing games.
For those of you who love Fantasy Football, check out Evan Silva's look at the game.
_
---