Posted:
July 16th, 2018 |
Author:
Tommy Lawlor
|
Filed under:
Philadelphia Eagles
|
1 Comment »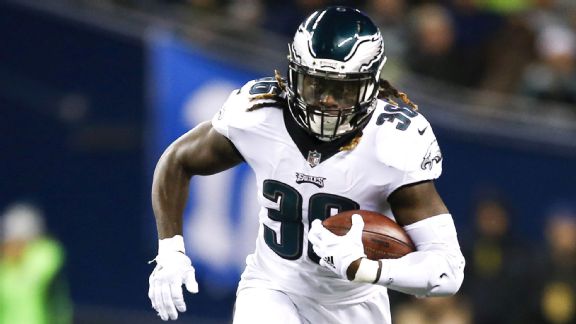 Chip Kelly traded LeSean McCoy for Kiko Alonso in one of the most lopsided deals in recent NFL history. McCoy has been a star for Buffalo and remains one of the best backs in the league. The Eagles couldn't get rid of Alonso fast enough.
While that deal seems disastrous on the surface, the Eagles still benefited from it.
Howie Roseman pulled off a major coup when he was able to use Alonso in a deal with Miami to move up from the 13th pick in the 2016 draft to the 8th overall pick. Roseman then was able to make the final move up to the second overall slot, where he took some D2 QB from Montana State or something like that.
Beyond that, dealing McCoy opened up cap room that the Eagles could use elsewhere. And that was a good thing.
Often I talk about QB cap hits and building a Super Bowl roster. Here's a look at lead RB #'s since 2005 for Super Bowl Champs.

Most teams are winning Super Bowls with low cap hit RBs & are splitting carries in the backfield, rather than 320+ carry, high cap hit bell cow backs. pic.twitter.com/f2DzNePIIV

— Warren Sharp (@SharpFootball) July 17, 2018
Star RBs with big salaries don't have a habit of winning Super Bowls in recent years. It would certainly appear that the smart move is to load up on mid-level veterans and young RBs. Then use the RB by Committee (RBBC) approach. That gives you a lot of versatility at the position. It also lets you focus money on linemen or cover guys or pass catchers.
I'd love to tell you the Eagles built their team intentionally around being cheap at RB, but that wouldn't exactly be true.
Before moving up to the second pick, the team at least entertained the idea of drafting Ezekiel Elliott in 2016. Once they were able to get high enough, they went for the QB.
In 2017 the Eagles tried to move up in the 2nd round to draft Dalvin Cook. That didn't work out.
This past spring, the team showed interest in several RBs who could have been targets in the late 1st or early 2nd round. That didn't work out.
The Eagles may not have intentionally gone RBBC, but it certainly worked out for them last year. It will be interesting to study what happens at RB over the next year. The first question is how the team will use Jay Ajayi this season. He never had more than 18 carries in a game for the Eagles. With LeGarrette Blount out of the picture, will that change?
Jimmy Bama sees Ajayi getting more work.
With one year left on his rookie contract, Ajayi will be looking to make good money in free agency next offseason, so this could be his final year with the team. As such, there's a good chance the Eagles will look to get their money's worth out of him this season, giving him a much higher workload than he had a year ago. That should be fine with Ajayi, who will want his stats to look good heading into a contract year.
It really does make sense for both parties.
The other thing to watch with the Eagles is what they do next spring. The team will have a lot of draft picks. They can aggressively go after a RB if they really want one. If they let Ajayi walk, they could replace him with a mid-round pick or a mid-level veteran. Or both.
The Steelers have a star RB in Le'Veon Bell. That's a good thing. They can't seem to work out a long-term deal with him and that's a bad thing. Or maybe not. Based on the chart above, the smart play might be to let him walk and then hope for a solid comp pick the next year. Still, there is something weird about developing a star player and then letting him leave.
The Eagles believe in analytics. Howie Roseman believes in studying trends and patterns. Will they follow the trend or start one of their own?
Or will Matt Jones come out of nowhere to run for 1,200 yards and completely confuse the situation.
RB is one position where you really don't know what's going to happen.
_
---