Posted:
July 18th, 2018 |
Author:
Tommy Lawlor
|
Filed under:
Philadelphia Eagles
|
Comments Off

on The 2005 Draft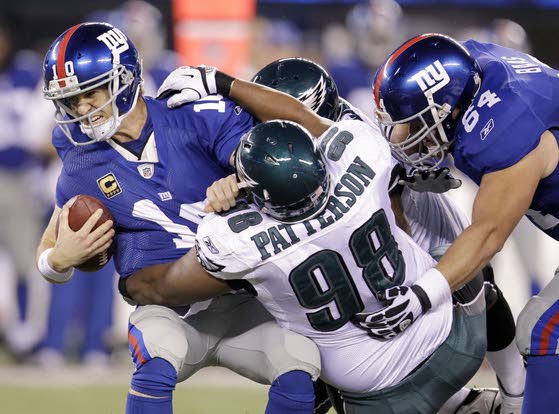 Things are quiet so let's hop in the Wayback Machine and take a look at the 2005 Eagles draft. This is my all-time favorite draft class. I absolutely loved this group, even the players who didn't work out.
I'll post notes on some of the guys.
1 31 Mike Patterson DT Southern California
2 35 Reggie Brown WR Georgia
2 63 Matt McCoy OLB San Diego State
3 77 Ryan Moats RB Louisiana Tech
4 102 Sean Considine SS Iowa
4 126 Todd Herremans T Saginaw Valley State
5 146 Trent Cole DE Cincinnati
5 172 Scott Young G Brigham Young
6 211 Calvin Armstrong T Washington State
7 247 Keyonta Marshall DT Grand Valley State
7 252 David Bergeron LB Stanford
DT MIKE PATTERSON 
I can't say enough how much I love watching this kid play. He isn't the biggest, fastest, or strongest, but he has more heart and determination than any DT that I've scouted.
Mike played mostly NT for USC. He fires off the ball. Very quick. On one play he launched at the snap and was so quick that the LG barely had time to rise out of his stance before Mike was driving him backwards. The great thing is that he plays hard, but under control. The play was a run to the left. Mike used his long reach to get an arm on the RB and slow him enough that two defenders could shoot in and nail the RB for a loss. Very next play is a pass. Mike shoots to the LG's outside shoulder. He's quick enough laterally to get beside the LG before he can block him. He's then fast enough to run by the G and get pressure on the QB. Went head to head with our own draft pick OG Scott Young. Beat Scott with a hard inside move. Mike saw the run going opposite of where he was. Quickly turned and was able to get in on the tackle. Got tripled team on another play, but battled the whole time.
Mike is not just an effort guy. What makes him special is that he does have long arms and he uses them well. He's got a very good swim move. He'll use a spin move. You can tell he's a former wrestler by the way he uses his hands. Keeps the OL from getting to his body. One of his best assets is his great awareness. Locates the ball quickly and immediately goes into pursuit. Effective on stunts and loops because he runs well. Good tackler.
Old Notes:
* My favorite of the top DTs. Undersized at only 5115, 290. Has played NT and DT. Plays as hard as any other player in the nation. Makes tackles all over the field. Great effort. Won't give up on a play. Fought through regular double teams. Quick and fast. He can be effective as the NT and clog things up or he can line up in a 3 technique and rush the passer. Moves well laterally as well as upfield. Uses his hands to really fight the OL. Has a wrestling background and it shows. Very consistent. Double digit TFLs and 5 or more sacks the last 3 years. Low Wonderlic score is a bit of a concern, but plays smart.
* Mike is disruptive. He gets upfield and has a non-stop motor. He had one very impressive play the other day. Mike shot upfield at the snap. The team ran a draw on him. He saw the RB, stopped on a dime, reversed direction, and made the tackle. My kind of DT.
LB MATT MCCOY
Very active. Very productive. Can get off blocks. Good at shooting gaps. Excellent range. Makes plays all over the field. Around the ball a lot. Shows good cover skills. Can handle WRs on crossing routes. Good tackler. Will hang tough inside and make tackles. Stout. Can slip blocks or take on an OL. Can come off the edge and blitz or just attack upfield. Physical with TEs and WRs in coverage. Ran over a G on one play and was able to get in on a sack. Matt is a lot of fun to watch. He just seems to make things happen. He can be an impact player on STs immediately. Jim Johnson said he's gonna let Matt have a shot at being in the Nickel package. It will not surprise me in the least to see Matt earn that spot and play well. I know a lot of Eagles fans are curious about him because of the struggles of Quinton Caver and Barry Gardner. Caver was an underachiever and Barry was a limited athlete. Matt was an overachiever and also is a good athlete. Plus, he's a perfect fit for WLB.
Old Notes: I was shocked when this kid declared for the Draft as a Junior. He hadn't stood out to me as a big enough star to make the move. Did finish 2nd on the team in tackles and had 9.5 TFLs and 3 sacks. Good year, but not headlines material. I popped in the tape and was very impressed.
Matt is very emotional. He is fiery and a trash talker. He flies around on the field. Good speed and quickness. Did well vs OL even though he's only in the 225 range. Good change of direction ability. Played WLB, but in SDSU's scheme, that sometimes up him in a position like ILB. Took on Michigan FB Kevin Dudley on one play and stuffed him. Had 18 tkls vs Mich. Light on his feet. Moves very well. Looked good in zone coverage. Came on a blitz from the outside on one play. Saw that it was a draw. As soon as he saw the RB, he quickly turned and made the tackle. Excellent recognition. Fired upfield, but stayed under control. Matt would play WLB in Philly. Could play early on as a nickel LB and STer.
RB RYAN MOATS
Highly underrated prospect. I really believe in this kid's ability. He can be a starting RB in the NFL. Has more RB potential than Westbrook. Brian is more versatile and a better receiver, but Ryan is a legitimate high quality RB. Averaged 20 carries a game the last two years and can be a workhorse type back. He is not just a scatback.
He has excellent vision. Very good instincts. He can start a play one way and then bounce it the other direction. Seems to feel where the hole is going to be. Runs east-west to get to daylight, but then cuts upfield quickly. Fast enough to get outside, but strong enough to run inside. Very light on his feet. That allows him to change directions quickly. He can make guys miss. What surprises you is how many tackles he breaks. He's only 5'8, but compounds that by running low. Makes a very hard target for defenders to get a good shot on. Deceptively strong. Guys will hit him, but just slide off him. Great balance. Mainly ran out of a one-back set. He'll have to adjust to the I-formation and a lead blocker. I watched part of the SMU game. Ryan had a bad ankle. Had a 9 yd TD run that was pretty impressive, especially considering the ankle. Started to the right, but saw defenders in his way. Cut to the left. Bounced it all the way outside. Once he got around the edge defender, turned upfield with an excellent burst. Flew into the endzone. Also had a 72 yd TD in that game. Bounced a short yardage play outside. The FS came over to tackle him, but Ryan accelerated so quickly that the S had no angle on the play. The S actually made the right read and started off well, but Moats extra gear got him upfield and took away the angle. While he isn't tall, he does have a solid build. Has muscular lower legs and good arms. Did 19 reps at the Combine. I didn't get to see him catch many passes, but he looked very natural on the couple I saw. Should be ideal on screen passes. Inconsistent as a pass blocker. Made one outstanding play where he cut a blitzer and got the guy on the ground. Did struggle with trying to block a DE. Gave okay effort, but has to sustain the block longer than he did. Has a good stiff arm. Most of the big plays I saw came to the left side. I very much like his demeanor. Doesn't go crazy when he scores a TD. Celebrates for a second, but nothing flashy. Hands the ball to the ref and heads for the sideline. When you see him on the sideline, he seems to be focused on the game. Talks to the coaches a lot.
He returned KO's a bit as a Freshman, but has the skills to be an outstanding KOR.
I know some think his level of competition is a concern. Not me. La Tech plays a very tough non-conference schedule. This year alone he faced Tennessee, Miami, and Auburn. He ran for 178 yds in those games combined. Ran for 124 yds vs LSU as a Soph. He also got to play in the East-West Shrine Game and played well.
My only concern is that he is too willing to take a running play and bounce it outside. That is fine at La Tech, but won't consistently work in the NFL. Ryan never had the luxury of working behind a strong OL, so he may be more of a hit-the-hole guy in the NFL. Doesn't have great speed, but he does have a good burst.
Old Notes:
* He is the real deal. This kid has some incredible talent. He reminds me of Quentin Griffin, only taller. Strong kid. Good burst. Very good balance. He made one incredible run for a 52 yd (?) TD. He's what I call a "hips guy". Moats has these incredible swivel hips.
* Moats really surprised me. I only really watched him in one game, but he made a strong impression. You hear about small schools guys putting up big numbers. You see some of them and they're productive, but nothing special. I watched one of his runs and it reminded me of Barry friggin Sanders. He's got a similar build, but not the huge legs/lower body. Ryan finishes his runs. He shows good vision. Nice speed and quickness. Can really make guys miss.
OT TODD HERREMANS
Interesting RT prospect. A lot of people don't remember this, but Jon Runyan was a 4th Rd pick himself. He was 6'7, 310 and ran in the 5.25 range. We can only hope that Todd develops into the kind of player Runyan became. Todd has a similar description to Jon's when he came out. Good run blocker. Needs some work on pass protection. Herremans has good feet. He moves well and does a good job of keeping his feet active. Bends his knees, but needs to be more consistent about it. Can mirror DEs. Does have trouble with inside moves. That's something that needs work. Does a good job of extending his arms to keep DL from getting to his body. Will ride a DE wide of the QB. Shows a feisty side. Caught a DE off balance and slung him to the ground. Does a good job of blocking LBs in the run game. Not likely to see much playing time this year. Has the raw physical ability to be an NFL RT. Should get good coaching from Juan Castillo and will be given time to develop.
6'6, 321…5.13 in the 40
Son of a HS Coach. Played basketball and baseball for 4 years in HS. 2 time all conference. Started 40 of 48 college games.
Old Notes: We've been mentioned as a team interested in Todd. Some projections have said that he could go as high as 3rd Rd. I'm thinking more in the 5th.
Cactus Bowl Notes: I saw him in a Div. II all star game. Played RT and LT. Didn't look comfortable at LT. Did look right at home at RT. Comes off the ball very well. Very good job of getting to the 2nd level and taking out LBs. I've read he has "great feet". Can't say I saw that. Good feet. He needs work at handling edge rushers. Lots of upside.
DE TRENT COLE
Goes about 6'2, 245. NFL.com lists him at 257, but I'm not so sure about that. Needs to play DE no matter what. Could play LB, but Trent is a pass rusher. Looks athletic. More quick than fast. Can explode off the ball. Does a good job of using arms to get into the OL and keep some separation. Has long arms. Hustles. Knocked over the LT on one play by exploding at the snap and getting into him before the T could get set. Can shed blocks. Makes plays in the backfield, whether on the RB or QB. Disruptive. Has good closing speed in getting to the QB. Good effort pursuing plays, but lacks the pure speed to be special in that regard. He'll battle Jamaal Green for the #5 DE spot. I tend to think Cole will get the job. Could develop into a solid rotational DE.
Old Notes: I was in the camp of moving him to LB, but the more I watched this kid, the more I realized he needs to be a pass rusher. He could be 3-4 OLB or a 4-3 DE, but he needs to be a pass rusher. He's not big enough to start in a 4-3, but as Robert Mathis of the Colts has proved, there is great value in having an undersized guy coming off the edge in passing situations. Looks very quick. Flew by LT on one play. OK in space.
Senior Bowl Notes: Looked to me like all of his snaps came at OLB. Inconsistent game. Made one nice tackle in space, then whiffed on Ced Houston. Rebounded to bring down a TE on the outside. Seemed a bit upright, but that has to be due to playing a fairly new position.
SUMMARY
Great class. The Eagles didn't nail every pick, but they got a ton of production from this group.
Boy, did I love Ryan Moats or what. And that write-up on McCoy doesn't come close to expressing how much I loved that pick. Drives me nuts that neither of those guys panned out. It wasn't so much talent with them as it was not being ready for pro football. I need to write something about draft failures.
Mike Patterson never became a stud DT, but he was a good starter for seven years. He was part of a Top 5 defense and a couple of Top 10 groups. Good pick. Patterson is the kind of pro football player that is forgotten too quickly.
_
---