Posted:
August 19th, 2017 |
Author:
Tommy Lawlor
|
Filed under:
Philadelphia Eagles
|
79 Comments »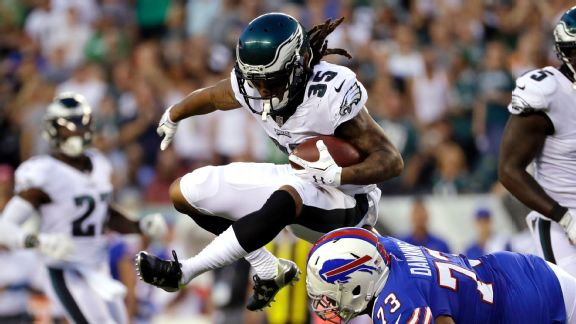 The Eagles defense was good last year. It was very good according to analytics and pretty good according to traditional stats. No matter how you slice it, the group played well. The goal in the offseason was to make changes that would help this group get to the next level.
After a couple of preseason games, it looks like the defense could be outstanding this year.
All the talk after Thursday was about Ronald Darby, Mychal Kendricks and Derek Barnett. Those guys were noteworthy. But put on the game tape and you'll see Fletcher Cox destroying the pocket on multiple plays. You'll see Rodney McLeod flying around the field and making things happen. You'll see Brandon Graham exploding into the backfield to blow up a run and then dropping back to cover a TE on a zone blitz. It seemed like everyone made a play or did their part to help a teammate make a play.
The addition of Darby gives this defense to really go up a notch. The defense now has playmakers at each position. Darby doesn't have to turn into Troy Vincent, but he needs to give the Eagles someone they can have confidence in when facing top flight receivers. Darby showed against the Bills that he has big time speed and very good feet, key traits for a CB.
As with the addition of Alshon Jeffery, there is a ripple effect with the presence of Darby. Jalen Mills remains a starter, but is now the #2 CB. Patrick Robinson can slide inside and play the slot, where he's had success in the past. Players are now in roles that fit them better. That helps players to play with more confidence and gives them a better chance at doing a good job.
The Eagles look better at each part of the defense.
Derek Barnett, Tim Jernigan and Chris Long make the DL look like it could be a dominant group this year. The returning players know their roles better and the new guys are ideal fits for the scheme.
Mychal Kendricks looks like Year 2 in the scheme is going to bring out the best in him. He's still not going to play a lot, but he'll build up confidence based on what he's done this summer. After seeing his success, the coaches might decide they want to use the base package more than last year or that they mix him into the nickel. Joe Walker looks like he is past his torn ACL. He's still young and learning, but I've been impressed by him. Nate Gerry shows promise. You want backup LBs that can run and hit.
The addition of Corey Graham gives the team better depth at Safety. The coaches can now use Malcolm Jenkins creatively if they want to. Last year they were forced to after Ron Brooks injury and it hurt the whole defense. Terrence Brooks has had a good summer and looks like the #4 Safety. He's better against the run than in coverage, but has played well.
I already covered the key CBs earlier. Beyond them, you see Rasul Douglas playing better in games. Aaron Grymes just had his best game according to DB coach Cory Undlin. C.J. Smith has been up and down, but that's okay if you're the #5/#6 CB.
Jim Schwartz has to be excited by the depth and versatility of the defense. He can feel comfortable with backups on the field. He can get creative with different packages. Schwartz can mix up his coverages more than last year. He can go Cover 2 or single-high Safety or use some zone looks.
The team that has really given the Eagles fits in recent years is the Skins, who the Eagles face in the opener. The defense gets a chance right off the bat to show just what they can do. For now we'll have to see how they play on Thursday night, when the starters will play more than half the game. I'm expecting another strong performance from the D.
_
---