Posted:
November 26th, 2015 |
Author:
Tommy Lawlor
|
Filed under:
Philadelphia Eagles
|
384 Comments »
Playing at 12:30 on Thanksgiving is just weird. Is this really what the pilgrims had in mind when they landed at Canton, Ohio back in 1776 and founded the NFL? I'm not so sure. At least there won't be a whole lot of waiting around for the game.
This is a huge game for the Eagles. There is a ton of negativity swirling around the team after Sunday's debacle. The team needs to bounce back. The Lions have won 2 in a row after a disastrous 1-7 start. They aren't a good team, but they are playing with more confidence now. Amazing what winning a couple of games will do for you.
The Lion offense has some big time talent, but still seems dysfunctional. Last week they had 218 yards in the 1st half, but only 3 FGs to show for it. They are last in the league in rushing and the team averages just 3.4 yards per carry. Don't expect a repeat of last week where the Bucs delivered huge plays in the run game.
Detroit's OL is up and down. They struggled last week with the blitz and stunts/loops. The Eagles can attack the Lions using both of those styles. Matt Stafford is a very talented QB so you want to get pressure on him. That isn't a guy you want sitting in a clean pocket.
Pass coverage was awful in the Tampa game so it will be interesting to see how the Eagles do against Calvin Johnson, Golden Tate and the RBs, Theo Riddick and Ameer Abdullah. The Eagles better tackle well because Tate is dynamic with the ball in his hands. Riddick and Abdullah are dangerous as well.
Mark Sanchez will play today. He played fairly well in the 1st half last week. Once the game got out of hand, he struggled. He's just not a guy who is going to win a shootout.
Detroit has a good pass rush. The OL will need to give Sanchez time to throw the ball. You can run on them. They have struggled to stop the run this year. The Lions like to spread out their DL and attack up the field. That leaves gaps for the LBs and DBs to cover. It will be interesting to see if the Eagles run more inside vs the wide front or if the Lions adjust their front and the Eagles run wide. No matter what, the Eagles need to run the ball.
Jason Peters and Jason Kelce are active. That helps the OL. Zach Ertz is out. That will hurt the passing game, especially with Sanchez at the helm. He loves to throw the ball between the hashmarks. Trey Burton gets a chance to show what he can do on offense.
This game is going to tell us a lot about this Eagles team. Can they bounce back from a terrible showing and play well? A win doesn't suddenly mean everything is okay, but it would be important. Look at the Bears and Texans. Each team hit rock bottom this year, but bounced back. Chicago is 4-6 and Houston is 5-5. When you lose, negativity and controversy follow. When you win, those things go away.
The Eagles were favored the last 2 weeks, but lost both games. The Eagles got their nose rubbed in it last week. That often will bring out the best in a team. All NFL players have pride. Getting humiliated serves as one heck of a wake-up call.
I can't imagine how insane things will get if the Eagles lose today.
For all of our sake, this team needs to come out today and play well. They need to win.
Please give us something to be thankful for.
*****
If this turns into another ugly game, we can still have some fun thanks to our good buddy Baloophi. Check this out….
Eagles Bingo!!!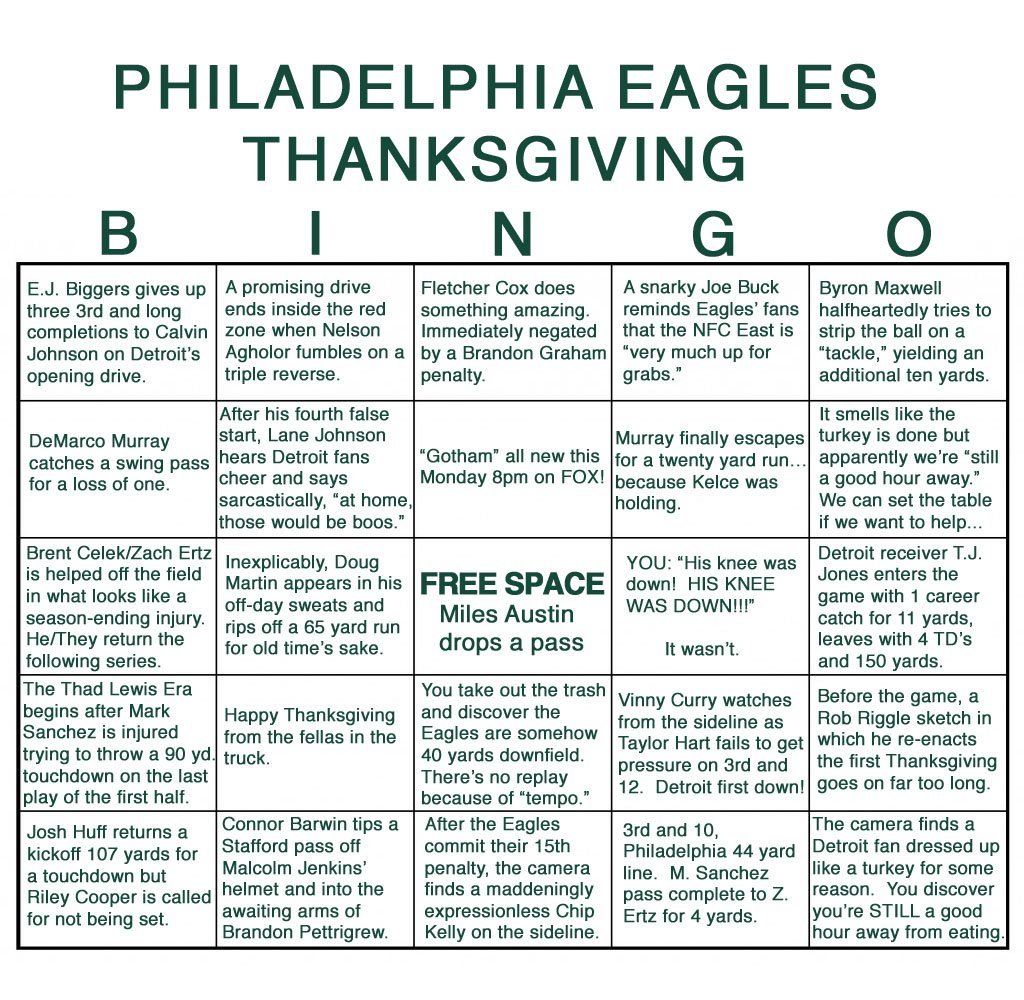 Even if things go horribly wrong, we can still win.
Play with friends and family.
And please…no cheating. This is a game of integrity.
_
---